I am sitting in my hotel room in isolation; not just from that bloody covid virus that I caught but from the singular thoughts and prayers I am channelling towards my colleagues and friends in Ukraine.
I have a long and passionate relationship with Ukraine, my grandfather came from Ukraine, my business partner of 11 years lives in Ukraine, I directly employ more than 10 people in Ukraine who are more than just work colleagues. I have visited this wonderful country many times with its warm, friendly and peace loving people.
I am simply devastated that it has come to this.
We live in a world where good values have been replaced by convenient ones. We live in a world where leadership is absent in place of weak self serving sycophants. We live in a world where instant gratification is rewarded over more difficult but enduring behaviour. We live in a world where the disparity between the rich and the poor has grown with no genuine attempt to improve it.
We live in a world where you are alone.
We all want to believe that our friends will come running to protect us when we are in trouble. History has shown us time and time again that unless there are real tangible benefits when the sh1t hits the fan you are on your own.
However, despite that depressing fact at a macro level, the real truth is that you are not alone, because the world is full of good decent people who understand right from wrong, good versus evil and the people of Ukraine should draw some comfort that while the so called leaders of the free world stand by there are hundreds of millions of people praying and doing whatever they can to help in the hope that a peaceful solution can be achieved.
I hope this is not perceived as insensitive to be discussing right now but if you look through history the world oscillates along an archetypal continuum of feast and famine, good and evil, rich and poor, war and peace.
The world has pursued an easy money policy that has allowed excesses to go unchecked and the world to become displaced, extended, unstable, fragile.
There are economic forces that have been unleashed into the world at present that have to be corrected. These corrective forces extend way beyond simple economic factors. We have lived through an epoch of plenty and its inevitable for an epoch of scarcity to follow.
I find the chart below informative as to how an all time high in gold and forex reserves could embolden a megalomaniac autocrat to strike out and wreak havoc, comforted with the thought that he has enough reserves and communist friends to ride out economic sanctions.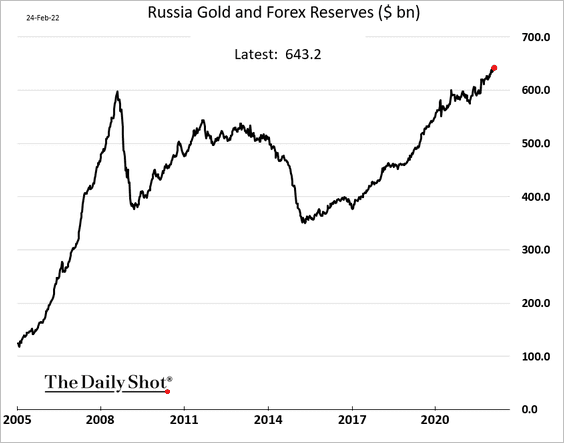 The economic reality is that the financial hardship he is about to bring to his people will far outweigh the glory of power he so desperately claims he wishes to restore to his people.
I didn't want to write today as I am covid-sick and I am in war-shock but I did and I hope I never offended with insensitivity or alarm.